Snapping Tours Sunset tours & Dinner cruise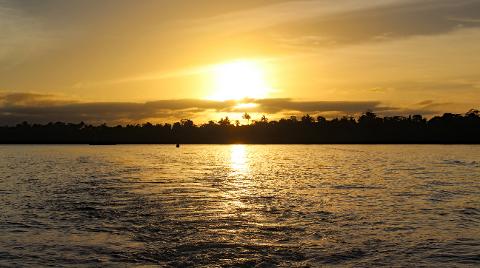 Duration: 3 Hours (approx.)
Location: Innisfail, Queensland
Product code: Sunset
A perfect way to end your day. Come on board our 5:30pm tour
and enjoy the breathtaking scenery our beautiful Johnstone River has to offer
upon nightfall. This 2 hour sunset cruise provides opportunities for our
customers to take part in spotting wild salt water crocodiles and other nocturnal
wildlife that live beneath and along the banks of the Johnstone River. Night
time is prime time for crocodiles to begin hunting, so this tour is not to be
missed for those interested in seeing and listening to how crocodiles hunt in
their natural habitat.
Experiencing wild caught mud crabs and guided walks along a
secluded beach is also on the agenda. During our boat cruise, our tour guides
will check crab pots in the hope of seeing wild caught mud crabs, together with
explaining their general features and their habitat. These mud crab's claws are
very powerful and customers can see just how powerful their claws are through a
live demonstration.

During the tour, food will be provided. There is a choice of a seafood platter and fish chips is also on the menu. Our food is provided by the lovely people at Innisfail Seafood and Walla's fish and chips. We thank them for their catering options and service!
Additional information for platter options:
Fish & chips platter options
-Fish & Chips
-Potato scallops
-Prawn Cultelts
-Squid ring
-Crumb oyster
-Crumb sea scallops
(Please note what option you want include in your platter)
Seafood platter option
-Prawns
-Oyster
-Bugs
(Please note what seafood option you would like in your platter)
Please note your preferred platter; either seafood or fish & chips.
Additional costs for:

Large platters $10
Extra large platters $15
There is also alternative platter options for those of you who would prefer a platter other than seafood! Please call or email us to organise other platter options.
This tour is highly recommended from September to May.