Lets go Cairns (bus tour to Snapping Tours from Cairns)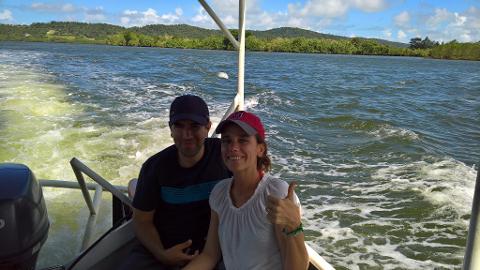 Duration: 5 Hours (approx.)
Location: Cairns, Queensland
Product code: LGC
Enjoy a wonderful sleep in and a gourmet breakfast served to you by your friendly staff members at your accommodation!
The Lets Go Cairns tour bus will arrive at your accommodation at a suitable hour before departing Cairns at approximately 10:00 am, heading southbound towards beautiful Innisfail. There will be opportunities for you to experience various sightseeing places along your journey to Innisfail and the chance to capture those memories by taking photos. We cannot forget the commentary and entertainment that will be provided by our very funny and friendly professional tour guide!
Upon your arrival to Innisfail, jump on board Snapping Tours, where we will embark on a wonderful journey along the gorgeous Johnstone River. On board Snapping Tours is where you will experience the unique wet tropics and the vast wildlife that live beneath the water and along the sandbanks. Our tour guides are well-equipped with knowledge of the biodiversity and history of the local area and are more than happy to pass on their knowledge to the friendly customers. Enjoy spotting many different types of wildlife and do not forget to keep an extra eye out for our snappy friends (the crocodiles), who will either be swimming beneath the waters or enjoying the sunshine on the sandbanks. There is even the extra attraction of catching live mud crabs, with crab pot checking on the list of things to do on board Snapping Tours.
Lunch is included during the tour, with many different options of food available. There are also other recommended tourist attractions that can be explored within the remaining 5-hour time period. Our guide, who has relevant connections and knowledge of all the local attractions, will suggest the best places to tour. This will all depend however on your interests, the time constraints and weather situations. Before departing Innisfail, your Lets Go Cairns Tour guide will take you to one of Innisfail's waterways, where you can enjoy a swim or relax under the shady trees.
You should arrive back in Cairns at approximately 3:00pm.
Please ask about our Snapping Tours Plus Packages or private charters should you require an alternative to this particular tour. We will cater for your needs. Airport transfers may also be arranged for customers at the time of the booking.