Snapping Tours Johnstone River Cruise Admission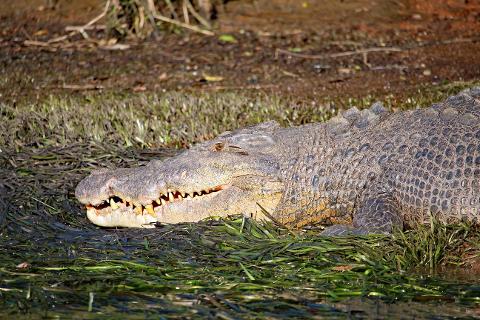 Duration : 2 Hours (approx.)
Location: Innisfail, Queensland
Product code : Snapping Tours Johnstone
What better way to explore the famous World Heritage Listed Wet Tropics and Great Green Way than on board a well-appointed glass bottom boat travelling on the Johnstone River system. This locally owned and family operated business have generations of local knowledge and history about the Innisfail area's rivers, rainforest, flora and fauna.
The leisurely cruise takes you on the calm waters of the Johnstone River which gives you a close up of the mangroves and abundant river life. The owners have an expert eye for spotting the local wild crocodiles either swimming in the river or sunning themselves on the sandbanks. Either way it's a spectacular sight! Other special sights can include turtles, snakes and other animals unique to the wet tropics who call the river banks home. Small groups tours make sure each cruise is personal and memorable. Whether it's for a fun family day out or a special celebration, cruises can be tailored to fit the needs of nearly any family or group. Added activities include crabbing for the Queensland mud crab.
This unique cruising experience on the tranquil waters of the Johnstone River awaits you.

Come and enjoy a fun and memorable tour only 60 Minute Drive From Cairns

For the best chance to spot a Wild Salt Crocodile in their natural habitat is on a low tide and in the morning. Feel free to contact us to find out the best time for spotting Crocodiles.
CHECK OUT OUR NEW COMPLETELY UNIQUE EXPECIENCE!!
Our Sunset cruise is a completely unique experiences on the Johnstone River, Starting from the Art Deco town of Innisfail cruising along the Johnstone River as our experiences guides with real knowledge and history of the area with a great eye for spotting Wild Salt Water Crocodiles, and all the Magnificent wildlife along the banks of the Johnstone River and checking a few mud crabs pots in the hopes for a wild caught Mud Crabs with also enjoying a fresh seafood or Fish & chips platter (Must book for seafood & fish and chips platters through Snapping Tours Sunset tours & Dinner cruise). Arriving on an secluded beach located in Wet-Tropics world heritage & Cassowary habitat. Our guides take you for a guide walk along the beach with a chance to spot a cassowary in the wild and many other bird species found along the beach. Jumping back onto our well appointed vessel we head back along the banks of the Johnstone river to spot a Wild Salt Water Crocodiles at night doing what they are known best for HUNTING and all the other nocturnal wildlife found along the banks of the Johnstone river.